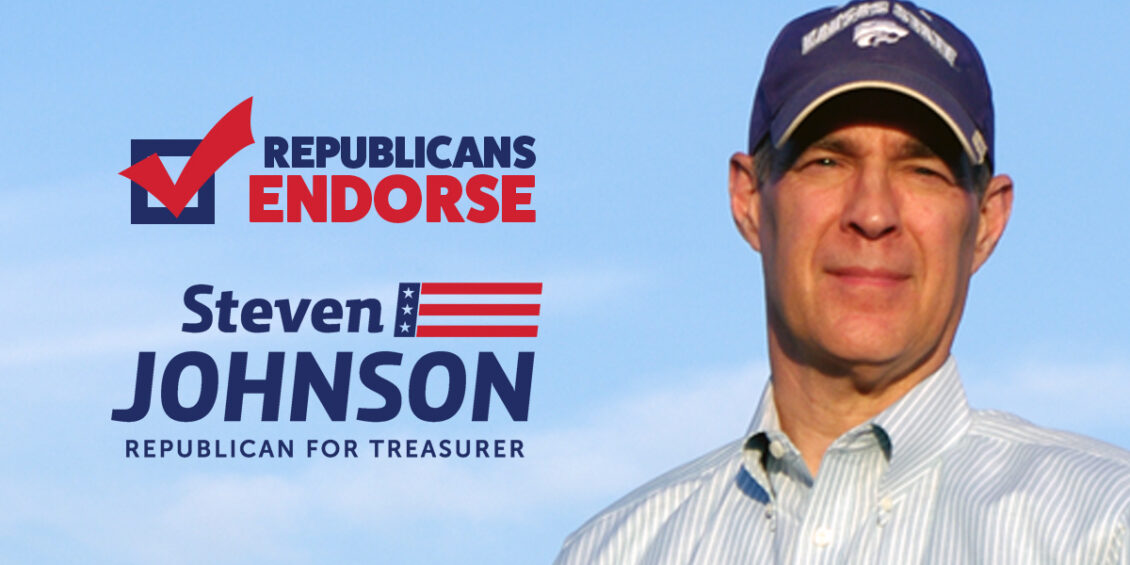 ASSARIA, KANSAS — Republicans in the Kansas Legislature have a favorite for the party nominee for state treasurer. Rep. Steven Johnson (R-Assaria) today released endorsements from more than forty Republican legislators.

Members of the House and Senate had glowing praise for their Republican colleague. Johnson pushed hard for balanced budgets and reducing government spending as a member of the House of Representatives since 2011.

"Steven Johnson is a fiscal hawk in the legislature," said Rep. Stephen Owens (R-Hesston). "He's the guy I'd put in charge of my money, so I definitely trust him with the keys to the safe."

Johnson is known for rescuing the Kansas Public Employees Retirement System from the brink of bankruptcy, saving taxpayers billions.

"The public employee retirement system is recovering from decades of mismanagement," said Sen. Rick Wilborn (R-McPherson). "Steven Johnson is the reason we have gone from 53% funded to 74% funded in ten short years. That's an amazing feat."

Johnson is running for the Republican nomination for state treasurer. His endorsements come from across the state.
Sen. Rick Wilborn (McPherson)
Rep. John Barker (Abilene)
Rep. Stephen Owens (Hesston)
Rep. Kristey Williams (Augusta)
Rep. Megan Lynn (Olathe)
Rep. Troy Waymaster (Bunker Hill)
Rep. Kyle Hoffman (Coldwater)
Rep. Les Mason (McPherson)
Rep. Will Carpenter (El Dorado)
Rep. Adam Thomas (Olathe)
Rep. Steven Howe (Salina)
Rep. Joe Newland (Neodesha)
Rep. Marty Long (Ulysses)
Rep. Leo Delperdang (Wichita)
Rep. Doug Blex (Independence)
Sen. J.R. Claeys (Salina)
Rep. Brian Bergkamp (Wichita)
Rep. Carl Turner (Leawood)
Rep. Cheryl Helmer (Mulvane)
Rep. Joe Seiwert (Pretty Prairie)
Rep. John Resman (Olathe)
Rep. Richard Proehl (Parsons)
Rep. Jim Kelly (Independence)
Rep. John Eplee (Atchison)
Rep. Sean Tarwater (Stilwell)
Rep. Susan Concannon (Beloit)
Rep. Ken Rahjes (Agra)
Rep. Nick Hoheisel (Wichita)
Rep. Shannon Francis (Liberal)
Rep. Suzi Carlson (Clay Center)
Rep. John Wheeler (Garden City)
Rep. Dave Baker (Council Grove)
Sen. Rob Olson (Olathe)
Rep. Russ Jennings (Lakin)
Rep. Clarke Sanders (Salina)
Rep. Jim Minnix (Scott City)
Rep. Mike Dodson (Manhattan)
Rep. Lonnie Clark (Junction City)
Rep. Kent Thompson (Iola)
Rep. Brad Ralph (Dodge City)
Rep. Fred Patton (Topeka)
Rep. Tory Marie Arnberger (Great Bend)
Former Rep. Clay Aurand (Belleville)
Former Rep. Jene Vickrey (Louisburg)
Former Rep. Sue Boldra (Hays)
Former Rep. Mark Hutton (Wichita)
Former Rep. Ward Cassidy (St. Francis)
ABOUT STEVEN JOHNSON: Steven Johnson was born and raised on a cattle and grain farm near Assaria, Kansas, served by the DS&O Cooperative. Interested by rural electric cooperatives, he attended the NRECA Youth Tour in Washington, DC and was elected to serve both as Kansas' representative on the Youth Consulting Board and president of the NRECA Youth Consulting Board.
After graduating from Southeast Saline High School, Steven went on to study Ag Economics at Kansas State University where he was elected Student Body President and graduated with honors.
After college Steven continued to work on the family farm while working for Ameriprise, a financial services firm. During this time he received his Master's in Business Administration from the University of Chicago with an emphasis in finance and business policy.
While at Ameriprise, Steven was awarded the firm's highest individual and team awards for his lead in creating a software program calculating the highest return of investment for a particular need. He continues to use this expertise in his daily farming and in the State Legislature.
Steven ran for the legislature and was elected in 2010. His financial and agriculture background have earned him valuable committee appointments including Chairman of the Tax Committee, Chairman of Insurance and Pension Committee, and membership on Appropriations and the Agriculture and Natural Resources Budget Committee. These committees allow him find solutions to the critical issues facing Kansas.
Steven has put his investment expertise to work for several non-profit entities, including serving on the investment committee of his church, the K-State Foundation and the Kansas 4H Foundation.
###